We had our beloved cat of 7 years euthanized today. I know I'll miss her when I walk in the door tonight. She always greeted me with a little chirpy meow. Clicking on the topics, you can see past posts about her hiding tactics, penchant for golf clubs and role as a big sister.


In our room, cuddling up like she used to do.



Being a big sister, and one who's never far away from the camera.



Showing B. what a cat's tail looks like!



Making sure Mom carefully trims the nails.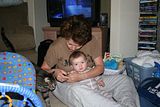 When I was sick with mastitis for the

first

time, she stayed by my side.



She always loved to sit in B.'s rocking chair. I would get mad at her for it, but I think she did it to be closer to her "little" brother.



Remember what I said about the camera? She also always played nice with B.'s friends.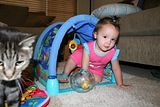 Caught her one night napping in B.'s bouncy chair.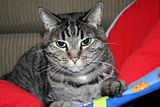 She looked too cute to move.



I think these were her last few healthy days in September.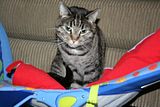 Always guarding B.'s toys after he went to sleep at night.



Of course, always inquisitive.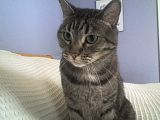 Always willing to cuddle on a cold day made for hot tea, a good book and quilts.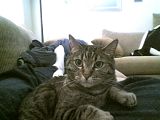 Oh, Gabby, we miss you so much.



We were lucky to have you with us for 7 years.



Now big sister Booty will relearn what it's like to be the only kitty at home.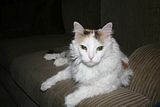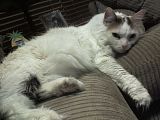 But I'm sure she'll miss cozying up to her sometimes-annoying but always lovable little sis!



Dream some sweet kitty dreams!